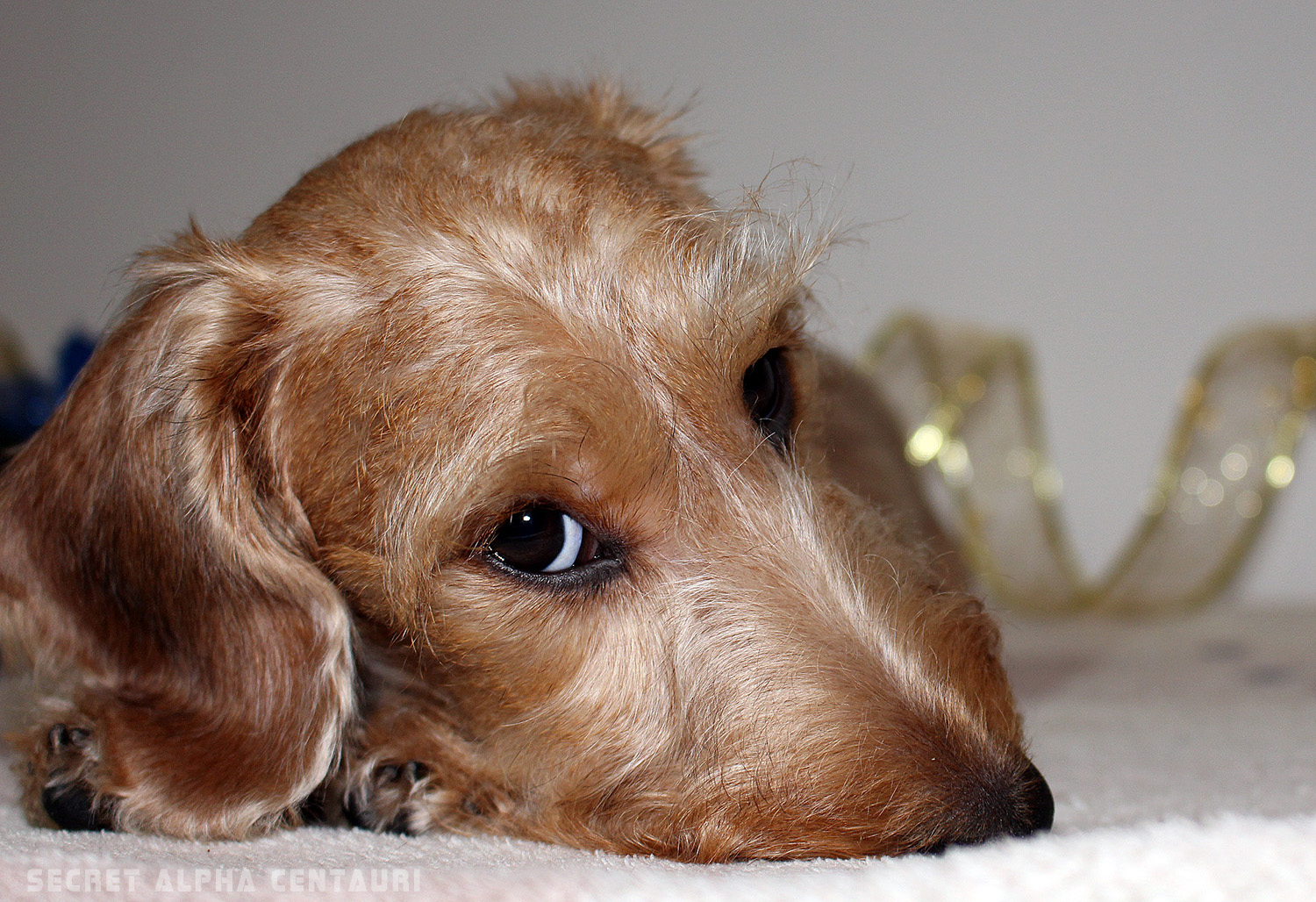 First we would like to thanking you for considering one of our adorable puppies. We offer only UKU/FCI wire-haired miniature/kaninchen dachshands puppies that will be sure to win your heart. All dogs in our breeding program produce dogs that weigh 8 to 11 pounds (3,5 - 5 kg). We have one litter in 1 or 2 years. So if you want one of our puppy maybe need to wait a bit. While you wait for the puppy we will get to know each other better and give all the answers on questions.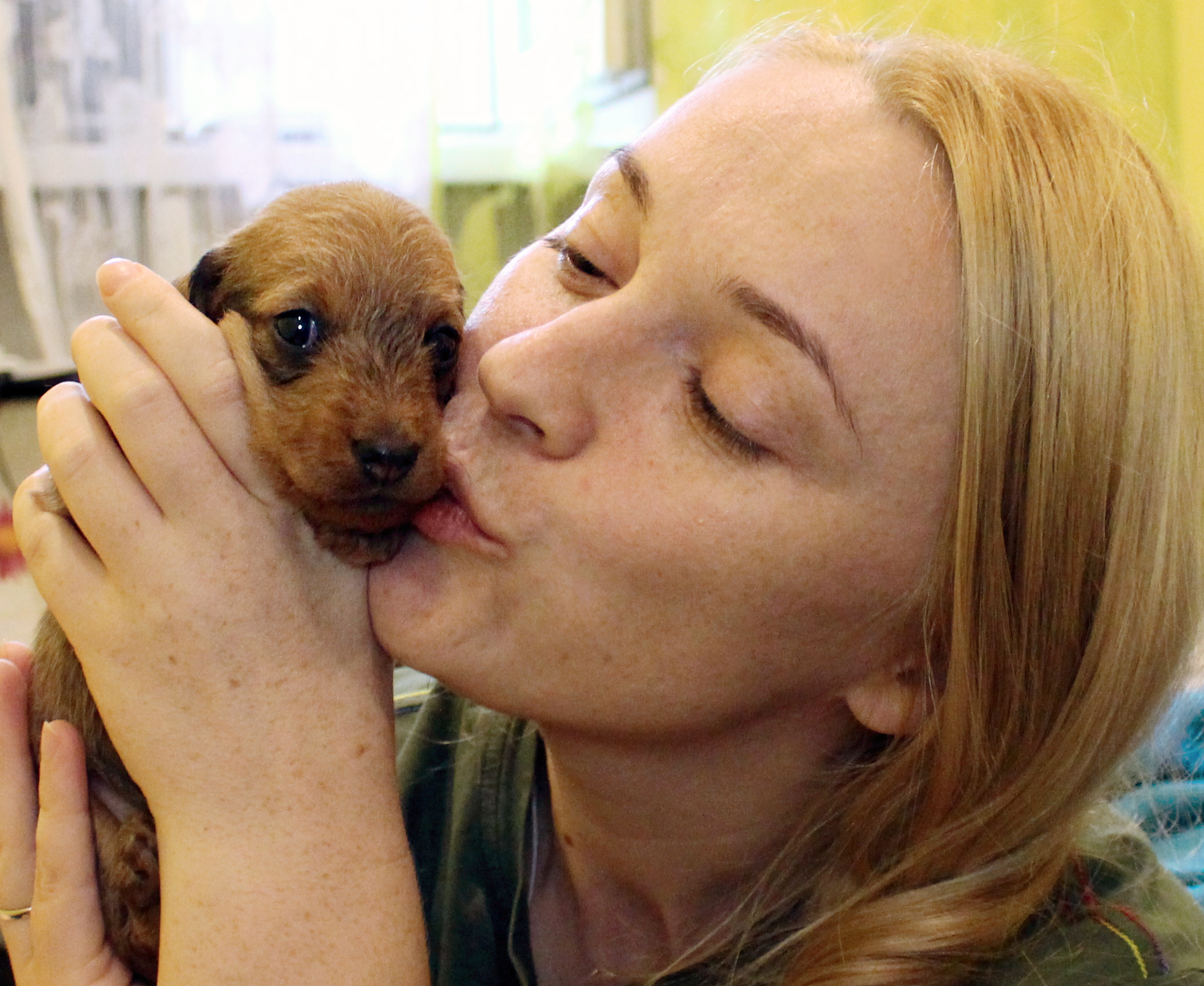 Our puppies will be able to go to their forever loving homes from 14 weeks of age. Puppies are the cutest ever at this age. They playing, running around, enjoying their toys, and very sociable.
All puppies are receiving our tremendous amount of love and attention that prepare each puppy for a smooth transition into their new home. We taking care of them, with the help of their mom of course, since they took their first breath. And we want to be sure that you will continue the care and love that they need. Also, for the well-being of our babies, we reserve the right to refuse to anyone whom we feel is not a good fit for our puppies.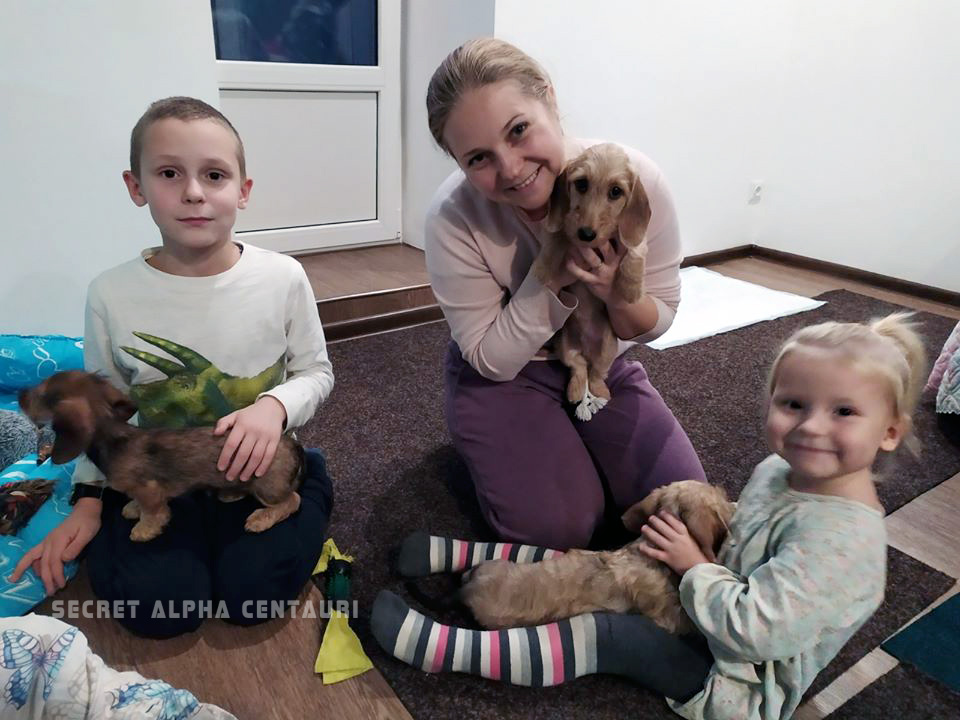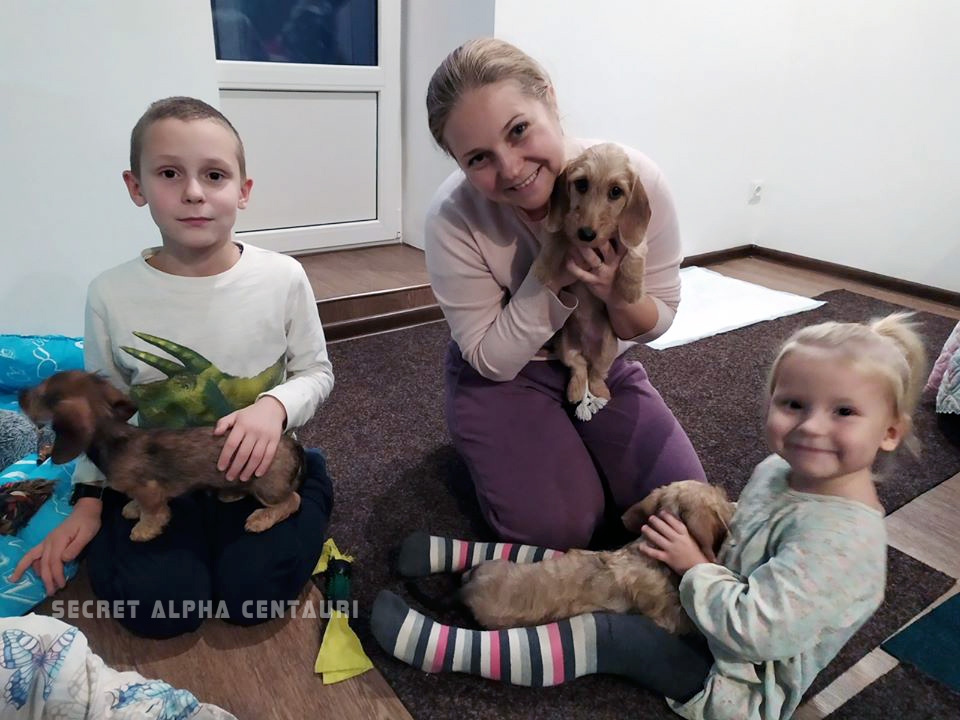 At the age of 7 weeks, we start introducing our puppies with other people, it's our friends and our neighbors. We also train our puppies for participation on dogshows. This gives more contact, obedience and endurance. All our puppies love this trainings.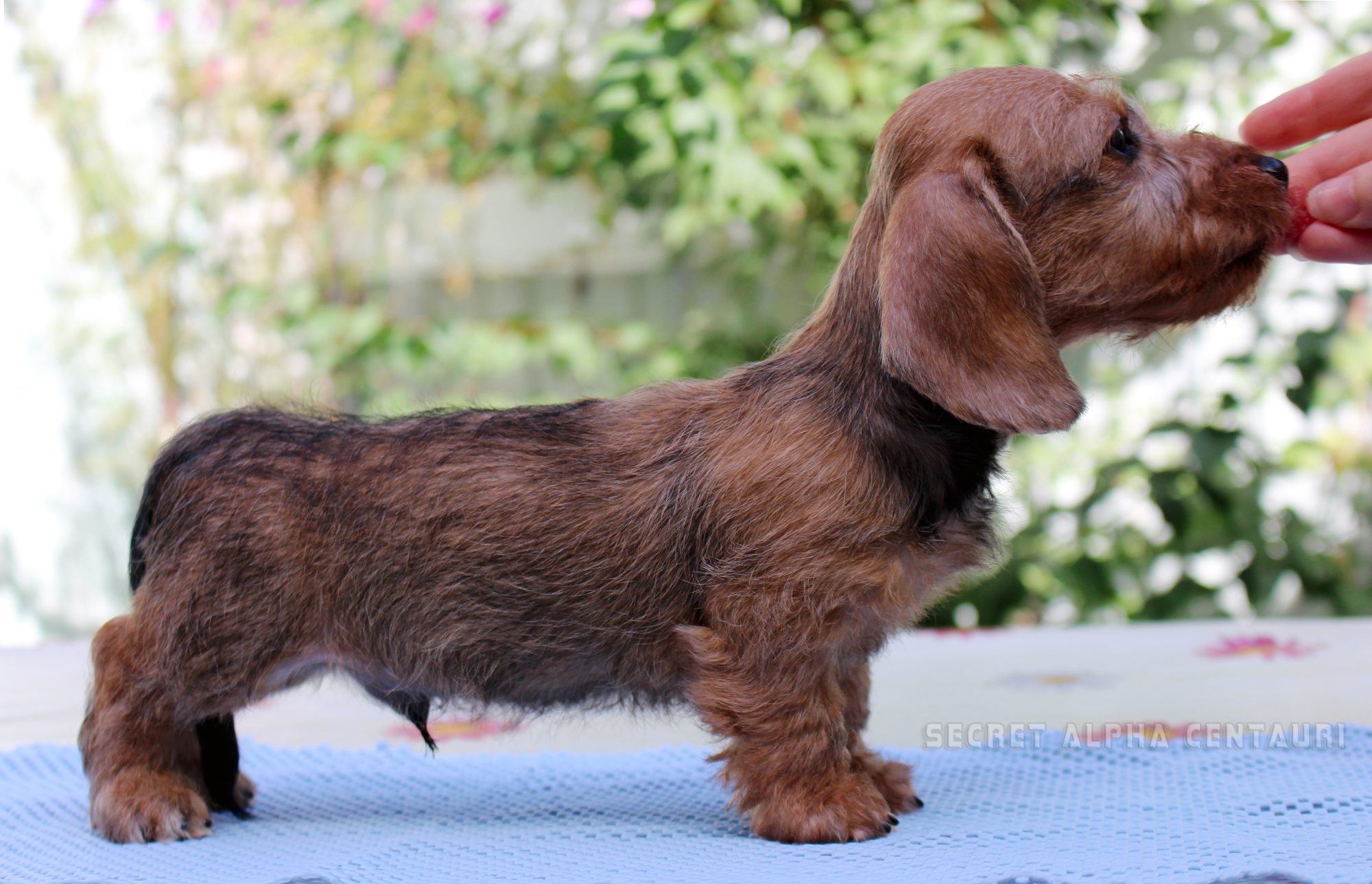 They are started on toilet training as soon as they are "big" enough to go out. First they training go toilet on a diaper. You should take into account that while the puppy is small age it is difficult for him to endure and he can make a potty in the house.
 All our puppies are current on wormings and all vaccinations that are needed for the age of the puppy you purchase. We have given them everything that our vet requires us to give them. Their next worming and complex vaccination will be required at about 7 month of age. Then the next wormings are needed each 3 months, and once a year complex vaccination and rabies vaccination.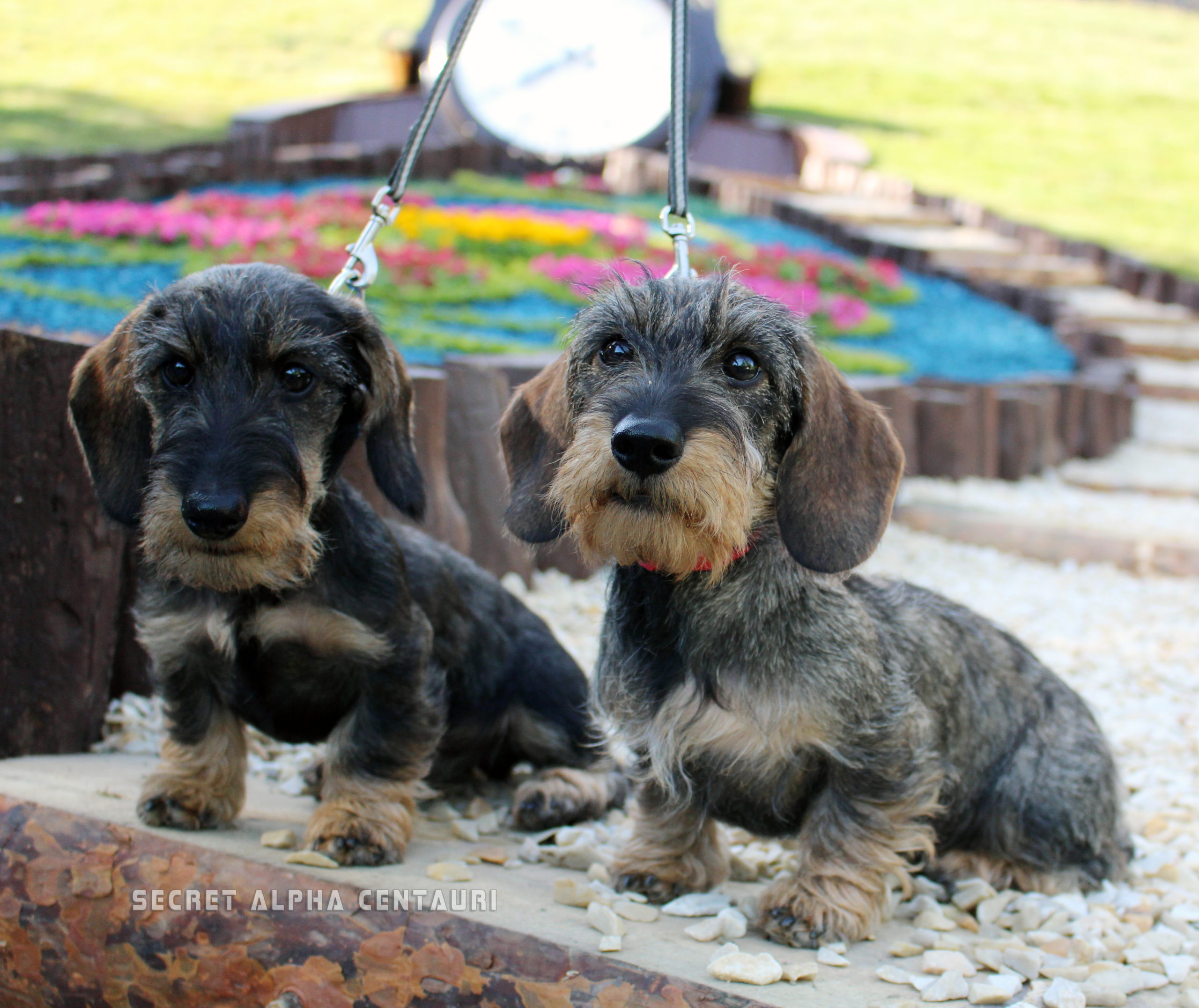 After a few first vaccination and quarantine, we start to take puppies for walks on a leash in the parks.
 Currently, our puppeis are eating "Grandorf" for puppies Lamb & Brown Rice
. This is a super premium klass puppy's food, grain free and potato free.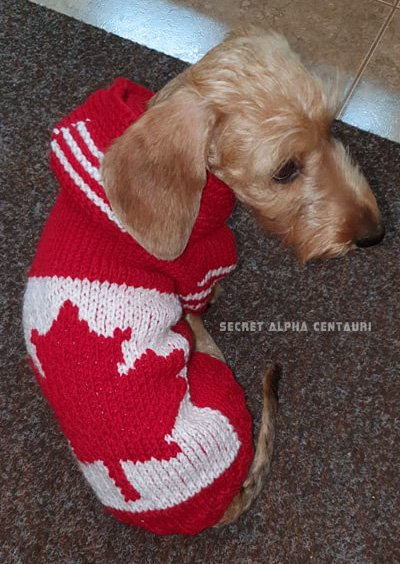 We feel it is a great food to feed your new puppy. If however, you are unable to feed this brand of puppy food, please make sure you have the new puppy food you have chosen to feed available when your fur baby arrives. You should be slowly transition to the new food. Don't make a quick change to a new food. Because puppy's stomachs may upset by switching to a new brand of food too fast.
 Each our puppy will arrive with a puppy kit. It will include a sample of puppy food, his baby-bowl, dog-collar, an international veterinary passport, which will show all vaccinations and worming they have had and will need in the future, the UKU/FCI registration puppy's card, and knitted sweater by our handmade.
 You also need get tips from your vet about how to avoid fleas and ticks, how to properly care for your dachshund's teeth, about feeding and training and ect. We are also able to give you guidance on caring and training for puppy and we are always available for your assistance after you take your puppy home.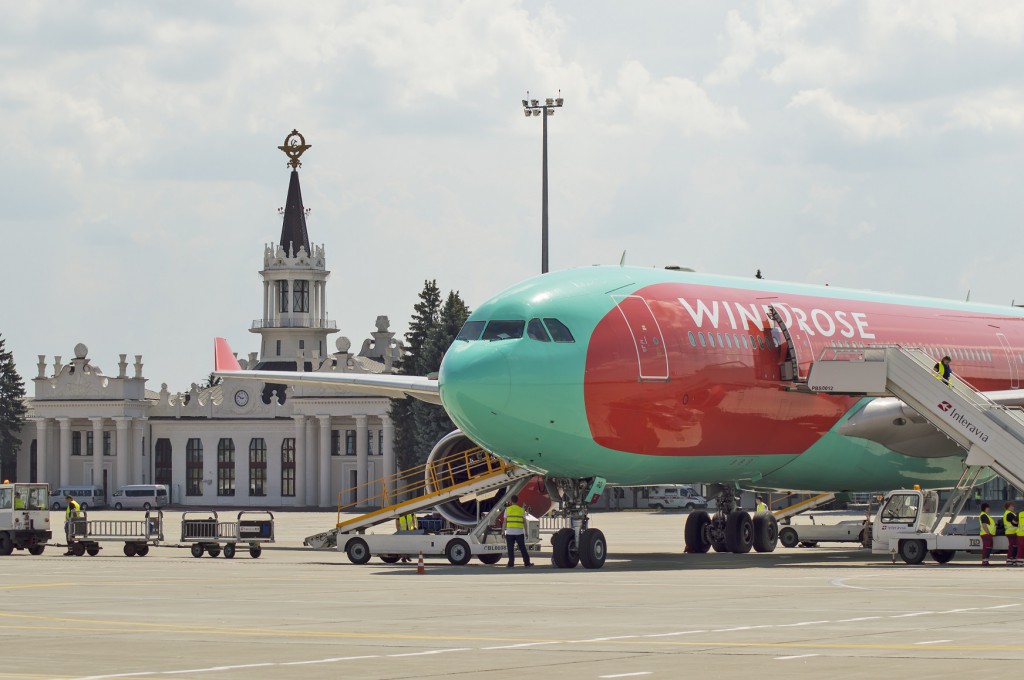 We invite you to visit our home and to take the puppy personally. If you are out the Ukraine area, you can use airline for pick up your puppy to his forever home. Airport Kharkiv closest to us.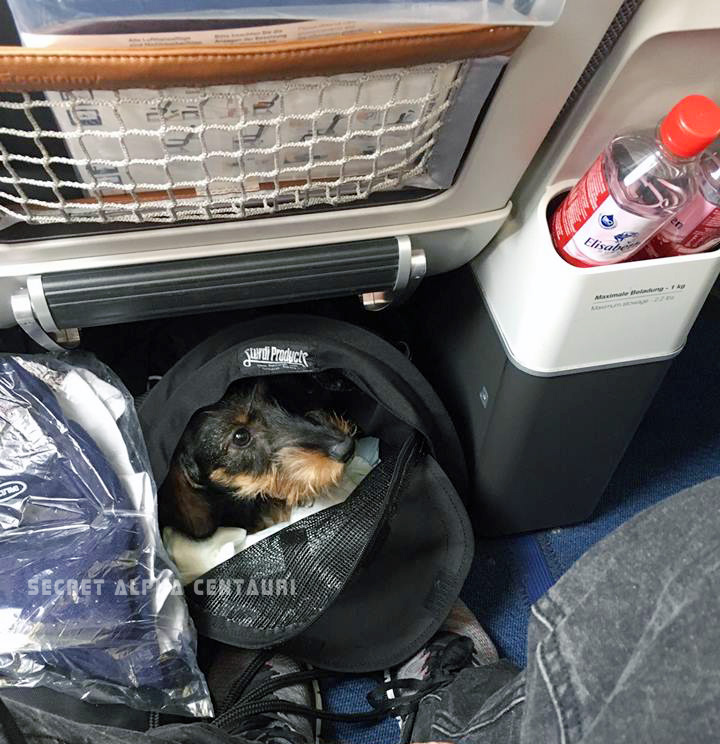 We only use the Airlines that are pet friendly, and the puppies fly in the airplane salon with you, on hands or near airchair. And during the flight puppies receive communication, weasel and full care. We never use cargo! We can also offer a reliable Service of animal delivery. We used delivery services several times and we and new owners are very satisfied. Puppies arrive almost without stress.
 A Non-Refundable Deposit is required to hold the puppy of your choice until the day of pick up. The remaining balance is due before puppy is to be picked up or shipped.
 We sincerely hope that you and your puppy will be completely happy with each other. However, we realize that situations change and things can happen. Therefore, if for some reason you decide you no longer want the pet, please contact us first! We will do everything in our power to help you and take back the puppy to our home. Please feel free to stay in touch!
 We want to make sure you have a happy and health puppy. We would be happy chat with you at any time for any questions, concerns, or advice that you may have to offer. And we always enjoy receiving picutes and videos and we will be very grateful to you for let us know how your baby is doing.
Welcome to our Secret Alpha Centauri Family!
Be happy with your new puppy!